Goryeo Buddhist Painting: A Closer Look
International collaboration and modern research techniques reveal characteristic details in thirteenth- and fourteenth-century Korean Buddhist paintings that distinguish them from similar works painted elsewhere in Asia.
Exquisite silk scrolls created with ink, rich mineral pigments, and gold characterize a distinctive school of Buddhist painting that emerged in Korea under the patronage of the imperial court by the thirteenth century. Relatively small in scale, these delicate works were made for intimate settings, such as private chapels maintained by members of the elite class. Today, only about 160 of these exceptional paintings dating from the second half of the Goryeo 고려 高麗 dynasty (918–1392) exist worldwide. Three are in the collections of the Freer Gallery of Art and Arthur M. Sackler Gallery, while thirteen more belong to other museums throughout the United States. I would like to take this opportunity to thank these museums for their cooperation in this collaborative undertaking.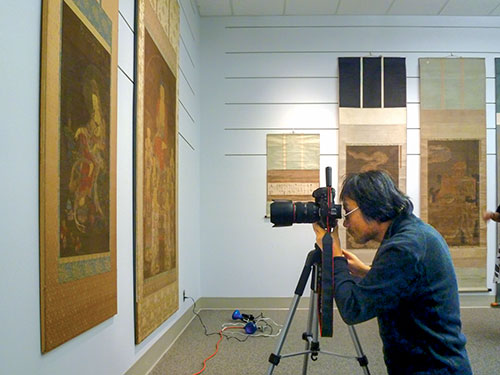 Chung Woothak, Professor Emeritus, Dongguk University, Seoul, photographing Water-Moon Avalokiteshvara at the Freer Gallery of Art
Scholarship on these paintings, which are chiefly Pure Land images dominated by the Buddha Amitabha and deities associated with him, has developed quickly since the first study was presented by the Yamato Bunkakan 大和文華館 in Nara, Japan, in 1978. To help advance this research and deepen understanding of the sixteen examples in American collections, the Freer Gallery of Art and Arthur M. Sackler Gallery approached the Cultural Heritage Administration of Korea for assistance in creating this bilingual digital catalogue.
From the start of this project, Chung Woothak, Professor Emeritus of Dongguk 동국대학교 東國大學校, the Buddhist university in Seoul, has served as the primary scholarly advisor. His role in the international endeavor extends beyond research to include photography. As Professor Chung explains, "My pictures have helped me identify techniques that distinguish Goryeo 고려 高麗 Buddhist paintings from works produced in China and Japan." His informative visual documentation captures close details of motifs, materials, and techniques that uniquely characterize the Korean genre, and we thank him for his guidance.
We also thank the Cultural Heritage Administration of Korea for the financial support needed to create this project.
Keith Wilson
Curator of Ancient Chinese Art
---
If you are a first time user, please read our:
User Guide
Citation Instructions
---
Goryeo Buddhist Paintings: A Closer Look is made possible through the generous support of the Cultural Heritage Administration of the Republic of Korea.