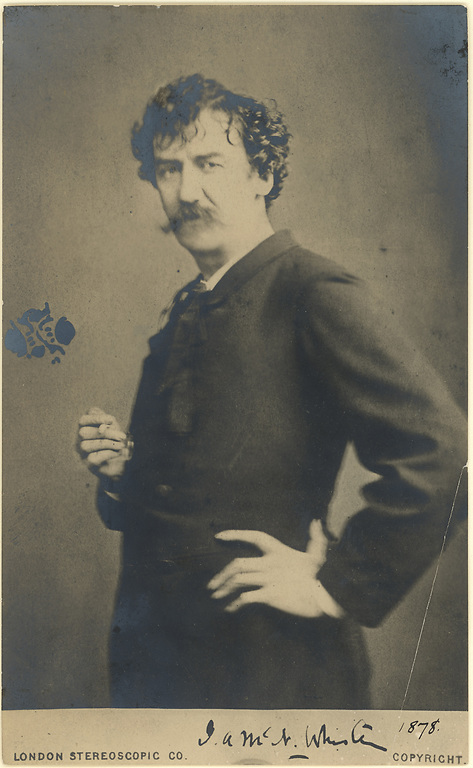 Individual
1834-1903
American

Place of birth: Lowell, Massachusetts, United States
Place of activity: London, England; Paris, France
Place of death: London, England
James McNeill Whistler
Whistler left the United States at the age of twenty-one and never returned to his native country. He began his expatriate life as a student in Paris, where he befriended Gustave Courbet and other artists of the French avant-garde. Family connections and Victorian prosperity led him to settle in London, living always in sight of the Thames River.
During the 1860s, as Whistler attempted to discard the realist style he had adopted in Paris, he found inspiration in the composition and subject matter of Japanese prints and the delicate designs on Chinese porcelains. To Whistler, objects imported from Asia embodied a beauty not found in the unpleasant aspects of industrial London.
By the 1870s, he was transforming scenes of contemporary life, especially along the riverbank, into tranquil views of the city, veiled in mood and atmosphere. He gave his works musical titles, hoping to defeat the Victorian tendency to read pictures like books, and he incorporated elements of Japanese style into his compositions. His monogram, which took the form of a butterfly, served as a signature on many of his paintings and some of the picture frames that he designed. In Whistler's time, these devices were often dismissed as eccentricities, but today his works are considered among the most innovative and original of the nineteenth century.
Charles Freer met Whistler in 1890 on his first trip to London. He paid a call at the artist's Chelsea studio and initiated a long and beneficial friendship. With Whistler's encouragement and cooperation, Freer built the most important collection of his works in the world, including the Peacock Room, which is now a part of the Freer Gallery of Art.