Woman with a Child (Nude Figure and Cupid), by Hyoungee Kong
Intimacy and tenderness saturate Whistler's Woman with a Child, in which everything exudes softness—from the touches between the figures to those between the artist's brush and the paper surface, and from the pastel palette to the fragile outlines in pale gray. Long brushstrokes of pale pink enwrap the figures in a warm aura. The artist's characteristically thinned-down paint renders the bodies and the mise-en-scène almost weightless; a subtle sheen from Japanese paper underscores the translucent quality of the painted flesh. Whistler delineates the points of physical contact between the models with gentility. See, for instance, the models' hands whose forms are suggested in minimal—at times disappearing—outlines as they touch each other's bodies. The turquoise drapery behind the child guides the viewer's gaze diagonally upwards from the center, further emphasizing the delicate, almost ethereal atmosphere of the painted scene.
Woman with a Child reflects Whistler's long-held artistic interests, such as his enduring fascination with women's faces and his tendency to rework them—as can be seen in the disturbed paper surface, thicker paint application, and scumbling around the areas of the woman's forehead and ear. His experiments on stylistic interchangeability between mediums continue here, as well. On one hand, the gray contours around the painted forms and the artist's signature recall outline drawings in his pastels. On the other hand, his use of watered-down paint recalls his practices in oil painting of producing "sauce" and in etching of using plate tone. He mixes zinc white with almost every color, using the pigment as a universal harmonizer, just as he did with bone black in his oil paintings.
Japanese paper used as the work's support did not fit well with some notable characteristics of the artist's watercolor practices. Thin, soft, and absorbent, the paper reacted sensitively toward Whistler's wet brush repeatedly touching the woman's face. Paper fibers slightly clumped around her elbow as well, suggesting that the artist's finger might have accidentally touched or rubbed the wet and fragile surface. When zinc white was used as a highlight to convey volume of the woman's right thigh and lower abdomen, the paper surface interrupted; matte white pigments emphasize individual paper fibers and dull the color and texture of the painted area, instead of highlighting it. Perhaps this is why Whistler made so few watercolors on Japanese paper—only fourteen that have been documented.
Woman with a Child likely contributes to Whistler's "mother-and-child" series from the early 1890s—a body of lithographs, pastels, etchings, watercolors, and drawings depicting a lightly draped or nude woman and a small child in the artist's studio.1 The models are probably Rose Amy Pettigrew, the youngest of the three Pettigrew sisters who worked as famous professional models in turn-of-the-century London, and her young niece.2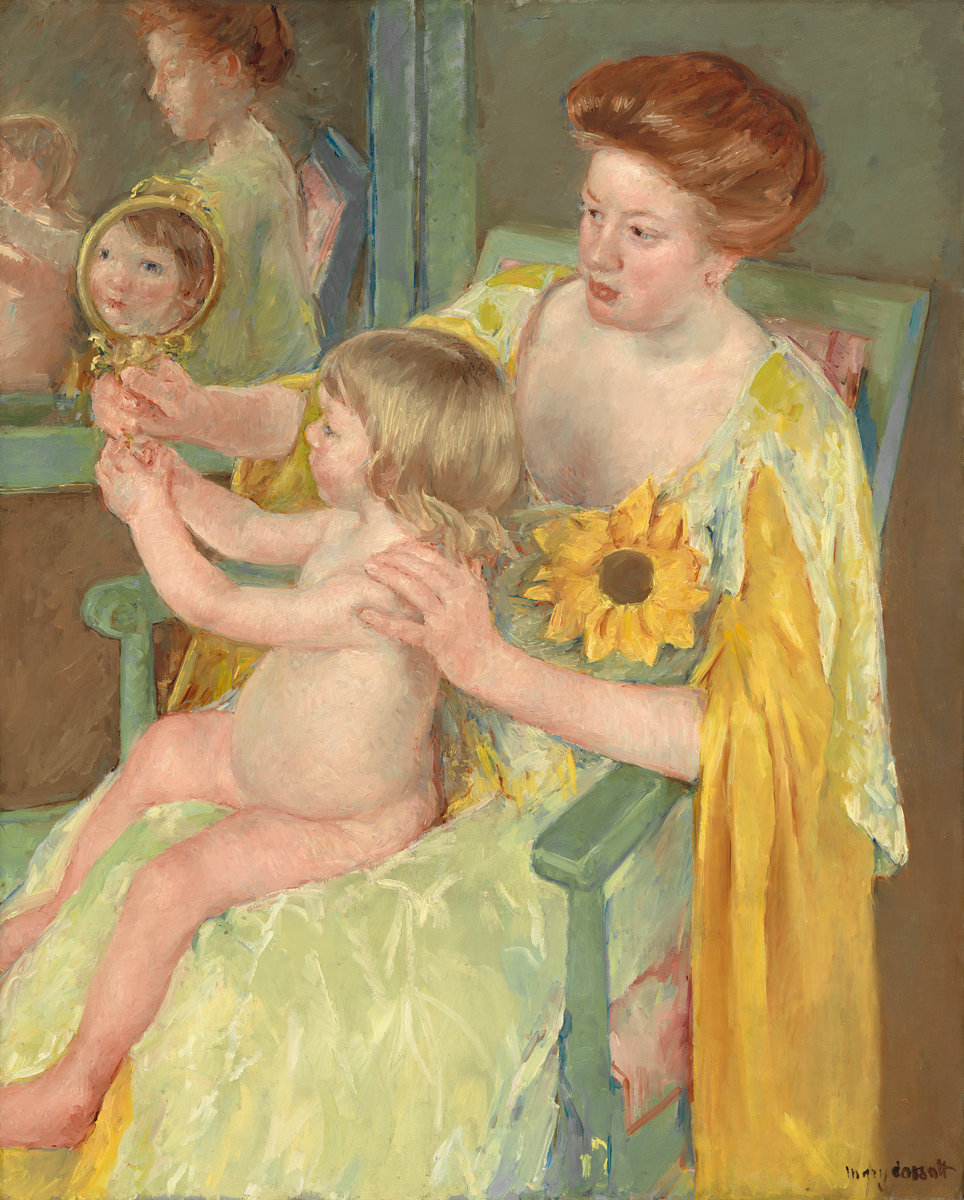 Several factors seem to have shaped Whistler's turn to this traditional and sentimental motif in the early 1890s. It could have been an extension of the artist's contemporaneous attempts at more commercial works to secure stable income from depressed English and American art markets.3 Whistler must also have been thinking about another American expatriate artist, who was making her name as the painter of mother and children: Mary Cassatt (Fig. 1). The two artists became acquainted in the 1880s; while they were never close friends, he must have known about her works thematizing the maternal/filial motif and about her financial success at the end of the nineteenth century.4
Whistler's interest in the parent-child relation resonates with that of Cassatt in that both maintained a certain distance from childrearing. Cassatt had no children of her own; Whistler, despite having fathered at least three children, was hardly involved in raising any of them. In this light, Whistler's attachment toward Rose as his favorite model, particularly for his mother-and-child series in the early 1890s, stands out—especially in relation to Rose's claim that Beatrice Whistler wanted to adopt her at one point.5 Woman with a Child may then be read as a project tracing complicated intersections and conflations between Whistler's professional desire to appeal to the market, his artistic ambition to negotiate between innovation and tradition, and his personal imagining of familial lien and intimacy.
Bibliography
1 Margaret F. MacDonald, James McNeill Whistler: Drawings, Pastels, and Watercolours: A Catalogue Raisonné (New Haven, CT and London: Yale University Press for the Paul Mellon Centre for Studies in British Art, 1995), 470.
2 Neil Pettigrew, "The Beautiful Miss Pettigrews," The British Art Journal 15, no. 1 (2014), 3–15.
3 Daniel E. Sutherland, Whistler: A Life for Art's Sake (New Haven, CT and London: Yale University Press, 2014), 268–9.
4 Nancy Mowll Mathews, Mary Cassatt (New York: Harry N. Abrams, 1987), 118.
5 "The Correspondence of James McNeill Whistler: Biography," accessed May 5, 2019, https://www.whistler.arts.gla.ac.uk/correspondence/people/biog/?bid=Pett_R&firstname=&surname=pettigrew.