Venice Harbor, by Diana Jocelyn Greenwold
Whistler visited Venice in 1879 on a commission from the Fine Arts Society in London to create a suite of etchings. Fresh from his break with long-time patron F. R. Leyland and his hollow victory in the Ruskin trial, the artist accepted the commission as a much-needed means of income and a way to escape London's insular art world. Venice had been a subject of great interest to numerous British and American artists such as J.M.W. Turner, John Singer Sargent, William Stanley Haseltine, and Sanford R. Gifford (Figs. 1 and 2). Unlike many of his compatriots, however, Whistler approached the city not with an eye toward its storied architecture but rather with an interest in its unassuming vistas. Art historian Margaretta Lovell has termed these types of scenes "low mimetic," a composition from the viewpoint of the everyday Venetian.1 Artists working in this mode eschewed grand scenes and popular areas of the city. Instead, they "sought . . . to value the intrinsically nonvaluable, to show the common eye that which is remarkable within its own common purview."2 Whistler embraced this approach, writing to a member of the Fine Arts Society, "I have learned to know a Venice in Venice that the others never seem to have perceived."3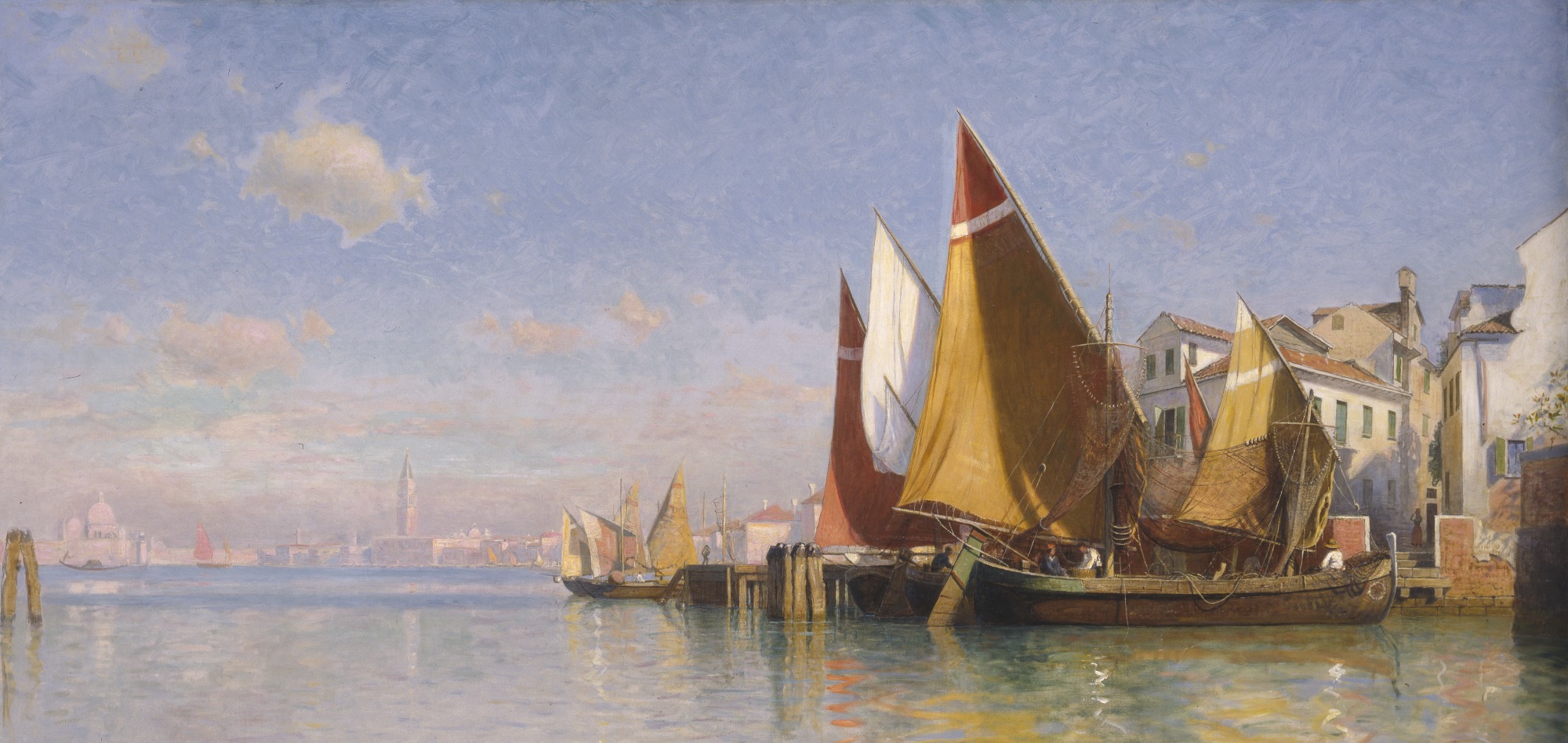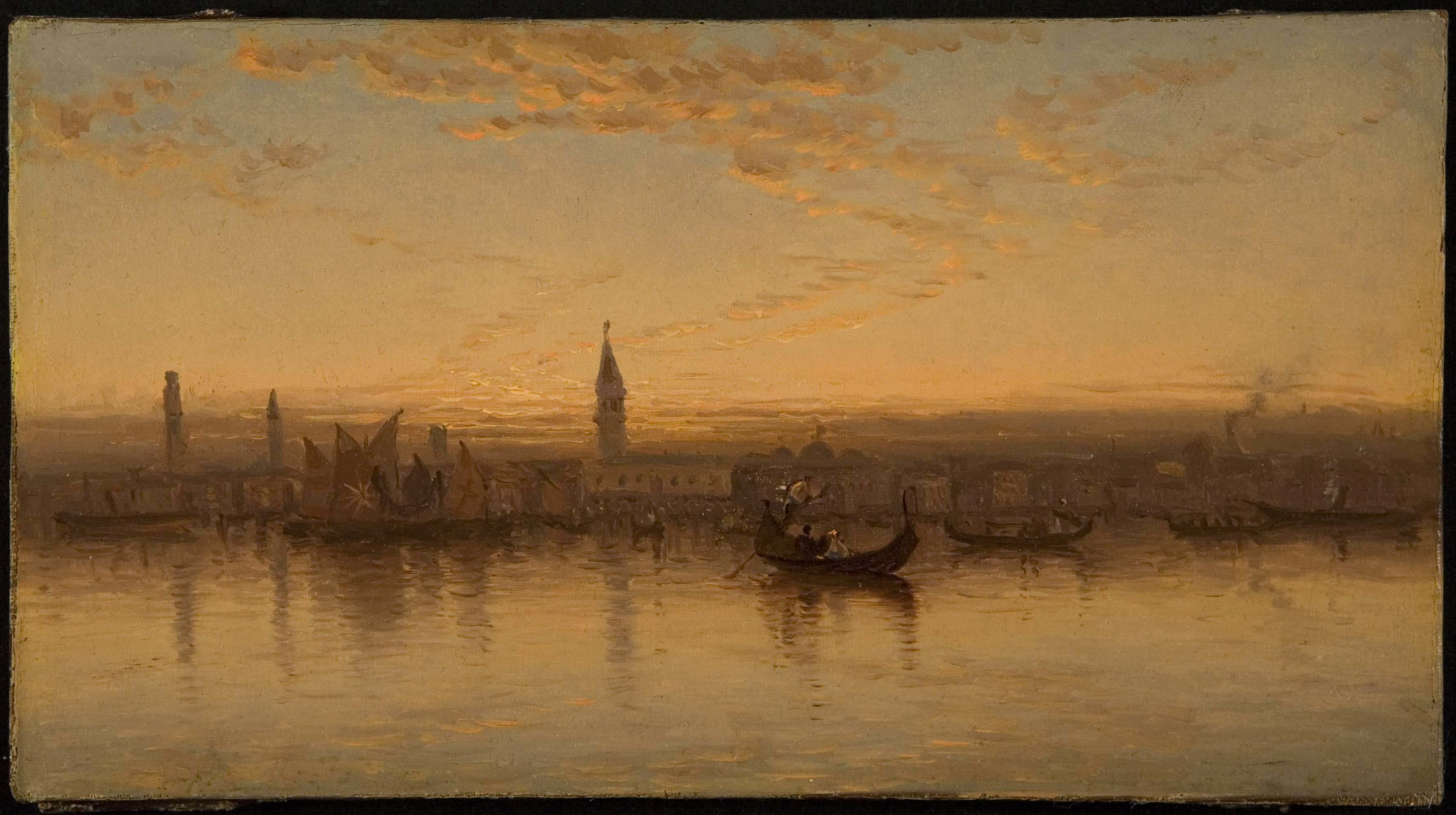 Though his Italian sojourn was planned for only three months, Whistler stayed for fourteen and created two celebrated sets of etchings and several pastels. Venice Harbor is an unusual work amongst this oeuvre as one of only two known watercolors from the trip.4 The small, horizontal composition shows a view from the public gardens looking northwest to the Riva degli Schiavoni towards the Piazza San Marco with the distinctive Campanile spire visible along the skyline. Along with a related pastel, The Giudecca-Winter; grey and blue, this watercolor was probably completed in November or December 1879.5 Painted on a toothy, cream-colored wove paper, the work is divided into three horizontal bands—a long expanse of water, boats and buildings, and sky. Using thin blue washes, Whistler fashioned a spare scene wherein sections of paper remain free of pigment to suggest sun glinting on the water and clusters of clouds. Short black and brown dashes create a row of recessing pilons. The artist's butterfly signature appears to their left, disrupting the composition's sense of depth. At the right, Whistler applied dark tones with a wet brush and used bright red and yellow highlights to render a pair of sailboats and their rippling reflections. Whistler seems to have attempted to blot out the sail to the far right, leaving the reflection as a ghostly reminder of its presence. The remaining sail leans diagonally to create a dynamic counterpoint to the painting's otherwise linear structure.
In its sparseness and its quotidian view of the city from afar, Venice Harbor echoes Whistler's moodily wiped etchings and small-scale pastels from the same trip (Fig. 3). The artist's fresh approach contrasts with detailed renderings in the same medium produced by his long-time rival John Ruskin some years before. One of the leading writers on Gothic architecture, Ruskin accompanied his most famous treatise on the subject, The Stones of Venice, with meticulously rendered watercolors of the city's buildings. In this image, Ruskin employs a shallow depth of field to revel in the details of Saint Mark's cathedral façade (Fig. 4). His watercolor allows for careful inspection of materials and construction of the city's great cathedral. Whistler's Venetian Harbor, with its loose approach and wide depth of field, provided the opposite: an expansive vision loosely worked in ethereal washes to summon an atmospheric sense of the city on the water.6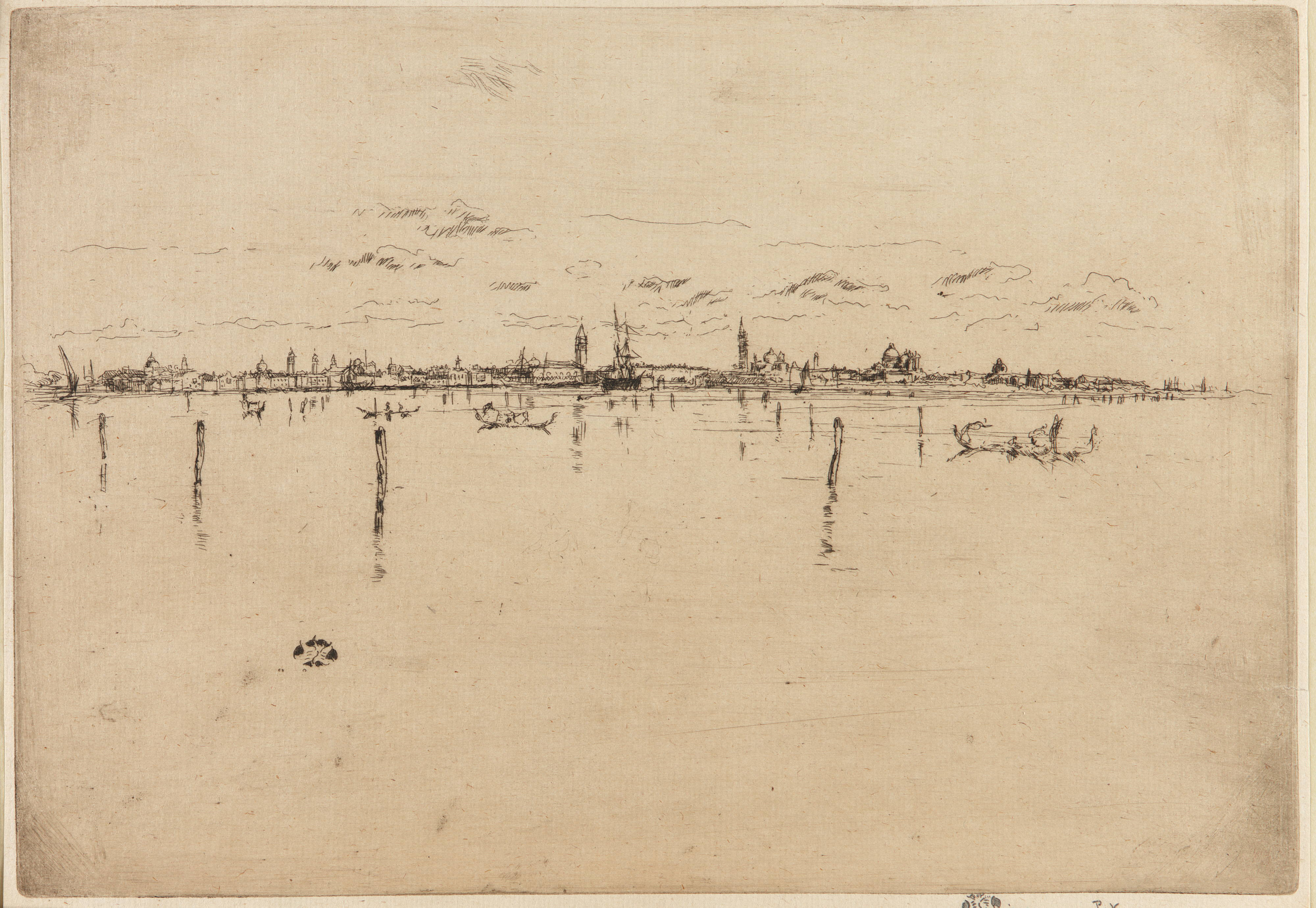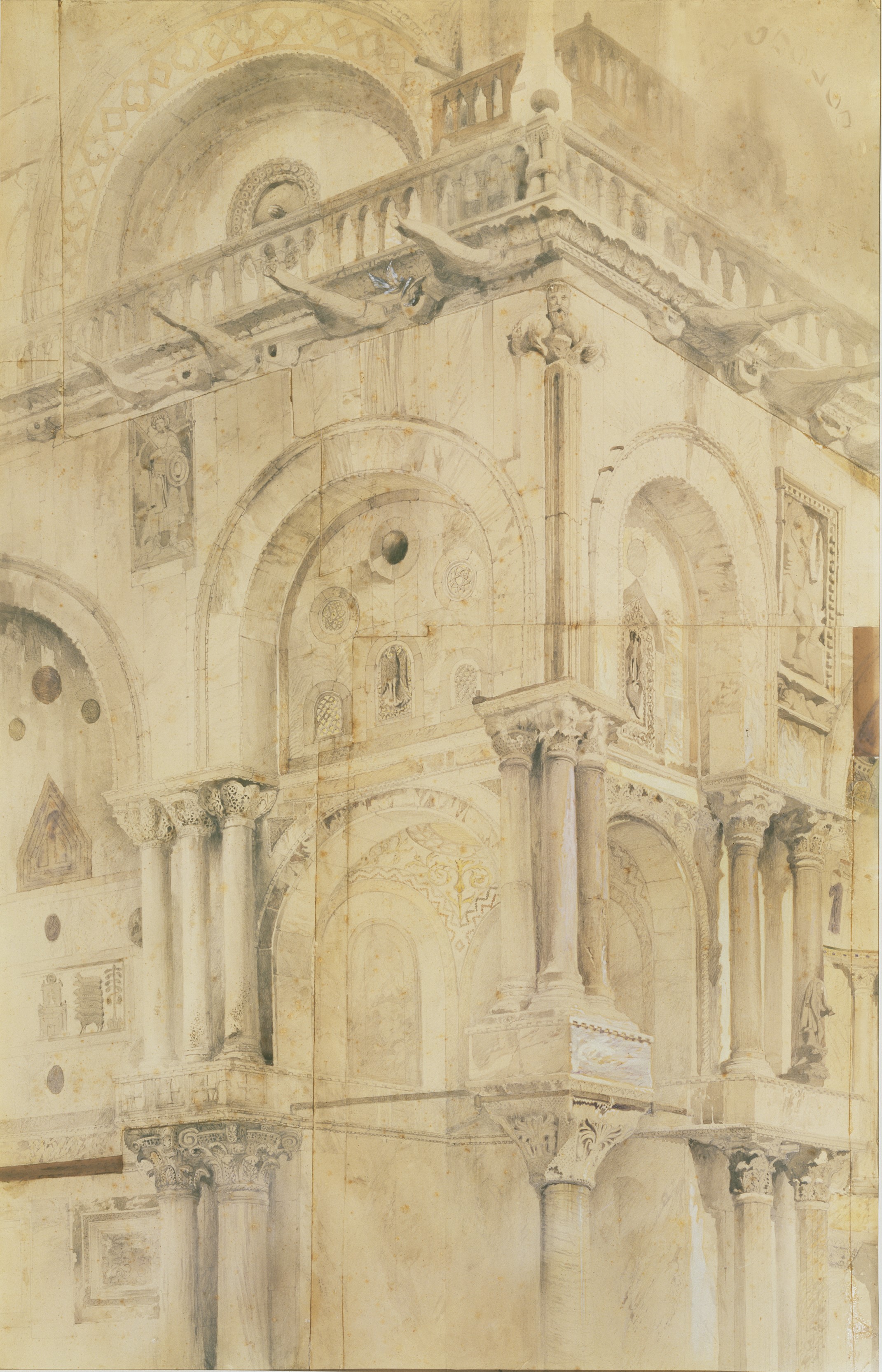 Bibliography
1 Margaretta M. Lovell, A Visitable Past: Views of Venice by American Artists, 1860–1915 (Chicago: University of Chicago Press, 1989), 9–10.
2 Ibid, 38.
3 James McNeill Whistler to Huish, in Alastair Grieve, Whistler's Venice (New Haven: Yale University Press, 2000), 28.
4 David Park Curry, James McNeill Whistler at the Freer Gallery of Art (Washington, DC: Freer Gallery of Art, 1984), 176.
5 "Venice Harbor," Freer and Sackler, accessed July 1, 2019, https://www.freersackler.si.edu/object/F1905.118a-b.
6 Grieve, Whistler's Venice, 21.