London Bridge, by Tara Contractor
With shimmering washes of gray and brown, London Bridge depicts the river Thames as if viewed from a boat on the water. Whistler had experimented with watercolor on and off from childhood, but it was this work that was publicized as his "first water-colour drawing."1 Though undoubtedly a transitional work, London Bridge boldly announces Whistler's public entry into watercolor, harnessing a variety of techniques to viscerally conjure London's damp and smoky atmosphere.
As in his nocturnes, where a few rapid strokes of black paint might telegraph a figure, Whistler here uses dabs of black and yellow to suggest distant carriages and horse-buses clamoring across London Bridge, which was famous for its crushing traffic. By 1881, Whistler had already made the Thames a trademark motif of his etchings and oil paintings. His choice to depict the river in watercolor, a medium understood as definitively British, might be read as an effort to reassert himself in the British art scene in the wake of his disastrous libel trial against the influential art critic John Ruskin.2 As Lee Glazer and David Park Curry have noted, Whistler's hazy view of a London bridgestrongly recalls J.M.W. Turner's atmospheric river scenes, particularly works like Above Waterloo Bridge (Fig .1), in which murky columns of industrial steam rise over the Thames. Whistler likely intended London Bridge as both tribute and challenge to Turner, the artist who, thanks in large part to Ruskin's championing, now reigned supreme within the canon of British landscape painting.3 Above Waterloo Bridge was, however, exactly the kind of urban, industrial scene that Ruskin's writings on Turner pointedly ignored. Borrowing specifically from this strand of Turner's work, Whistler already asserts an iconoclastic vision of British landscape art.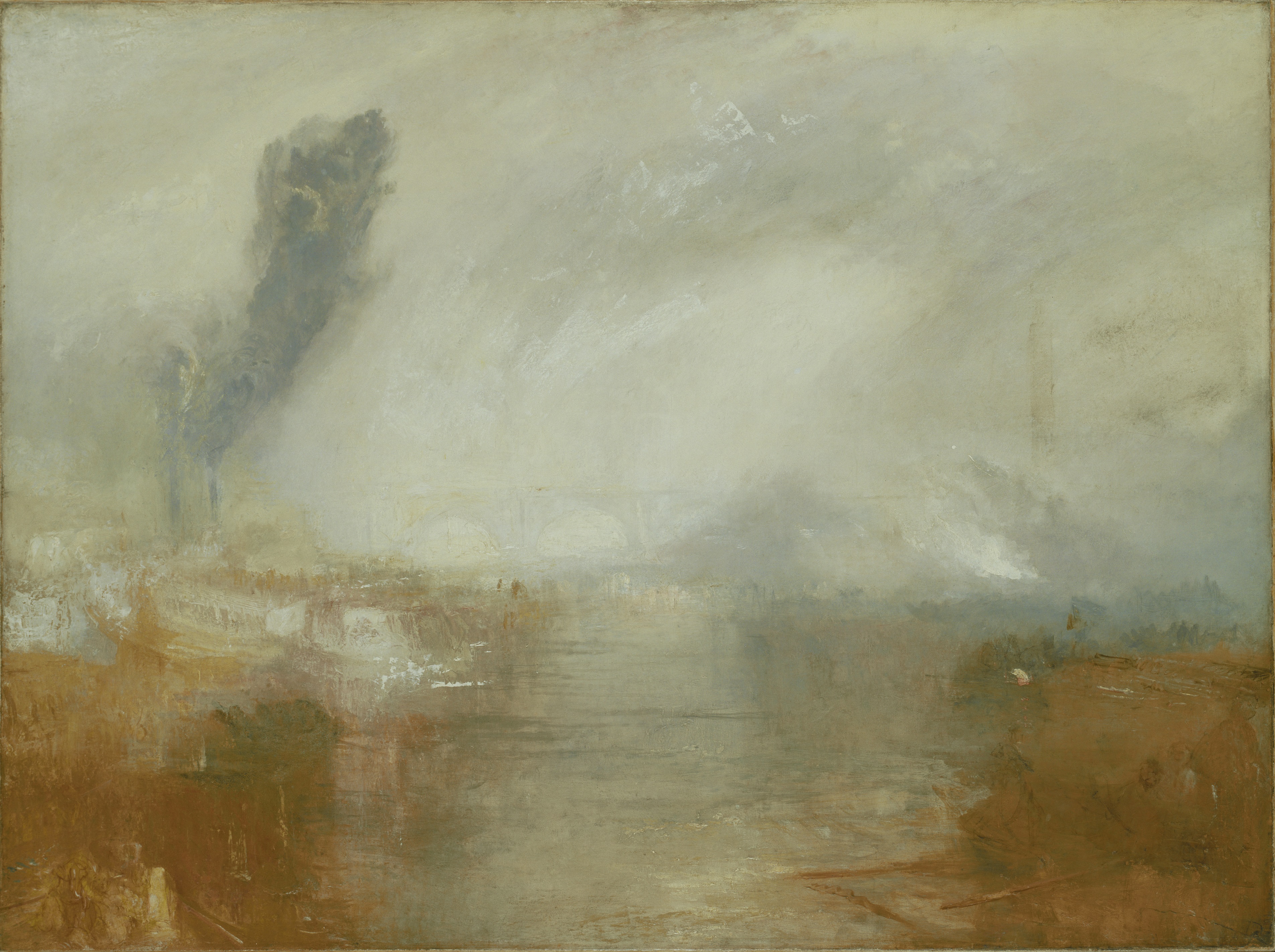 Whistler's apparently spontaneous and fluid handling of his medium belies a great deal of care and labor—a quality that would only strengthen as he grew more comfortable with watercolor in the coming years. He began London Bridge by loosely sketching the bridge and its surrounding buildings in pencil, a practice that had characterized the watercolor studies he had occasionally executed for his etchings.These scratchy lines of graphite, particularly clear in infrared images (Fig. 2), in fact recall Whistler's most gestural etchings—works like Battersea Morn (Fig. 3), in which scattered black lines on a white page indicate snatches of outline perceived through smog. Whistler later abandoned such underdrawing, but its presence in London Bridge alerts us that this is a work by an artist in transition between paper media and a watercolorist still approaching his paper with the hand of an etcher.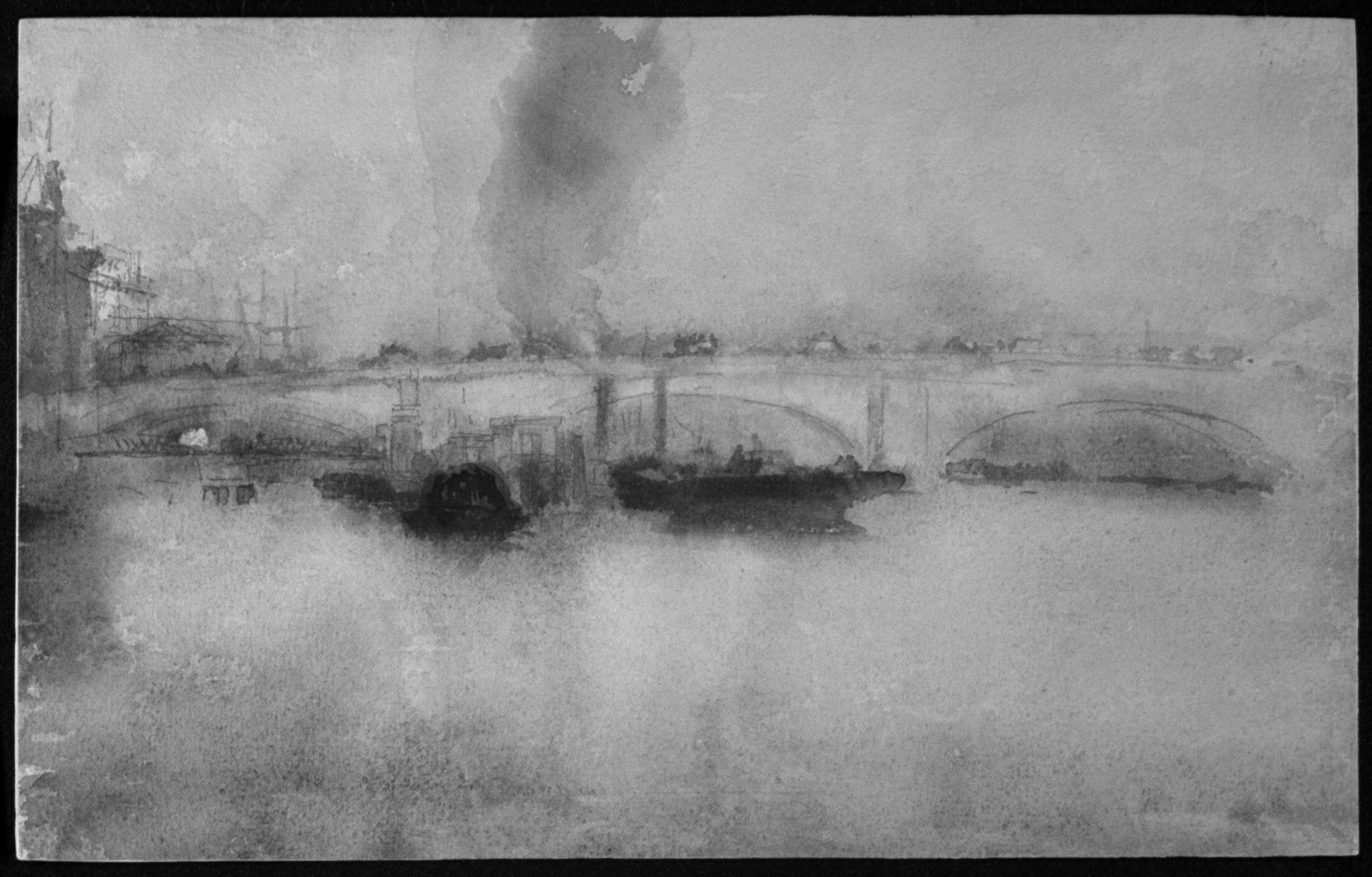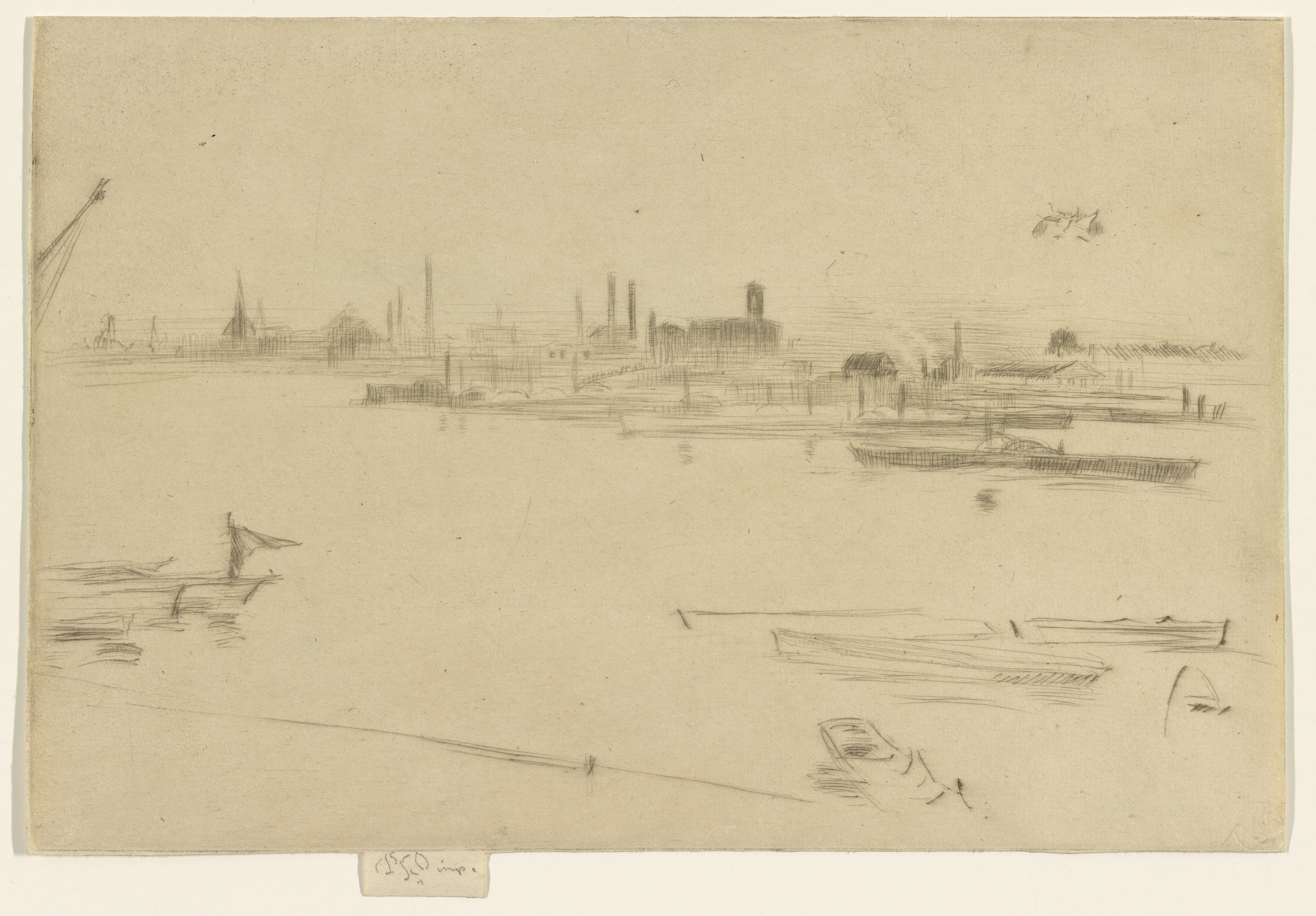 Famously selective with the papers he used in his etchings, Whistler assembled a vast collection of antique papers with subtly different surfaces and colors.4 Though he generally executed his watercolors on contemporary watercolor papers, he selected these with similar sensitivity, choosing a coarsely textured "rough" paper for London Bridge. Air dried rather than pressed, this type of paper preserves the raw texture of the paper pulp. In the lower half of the picture, Whistler allows his pigments to settle into the paper's crevices, blotting the topmost surface to create a flickering, mottled effect that perfectly evokes the river's lightly disturbed surface. In the sky, his quick uneven washes skip and flit across the craggy paper, creating a sense not simply of overcast sky, but of a sky in motion, thronged with low-hanging, windswept clouds.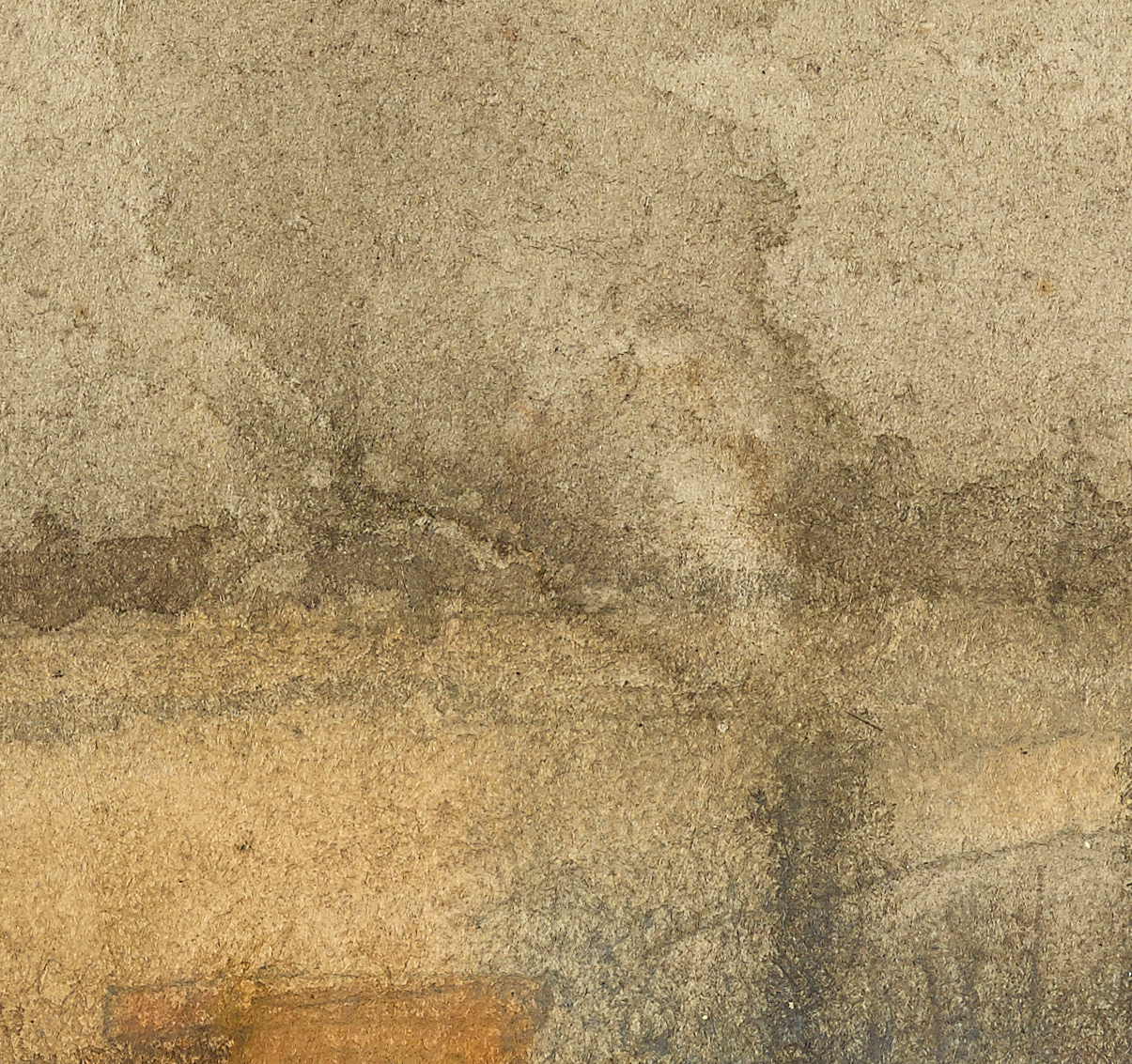 A plume of smoke trails across the sky from the steamship below, fanning out as it disperses into the surrounding mist. Close examination of this plume reveals Whistler's laborious technique (Fig. 4). Rewetting his paper, he has allowed the water to lift and carry pigment from the surrounding bridge and sky, leaving a smoky echo with a thin black tideline. A small streak of white at the plume's center, where Whistler has blotted up the paint to reveal the paper below, hints at the heat and pressure driving the boat forward.
Throughout the watercolor, Whistler uses a wet-in-wet technique, allowing fluid washes of pigment to bleed into the paper's dampened surface and create cloudy effects perfectly suited to London's polluted haze. While Whistler would use this technique to its fullest effect in his later watercolor nocturnes, his mastery is already clear in his depiction of the steamship's watery reflection in London Bridge. Recalling Turner's heavily worked surfaces, Whistler creates a sense of the river's depth and sheen, capturing its shifting notes of teal and coffee.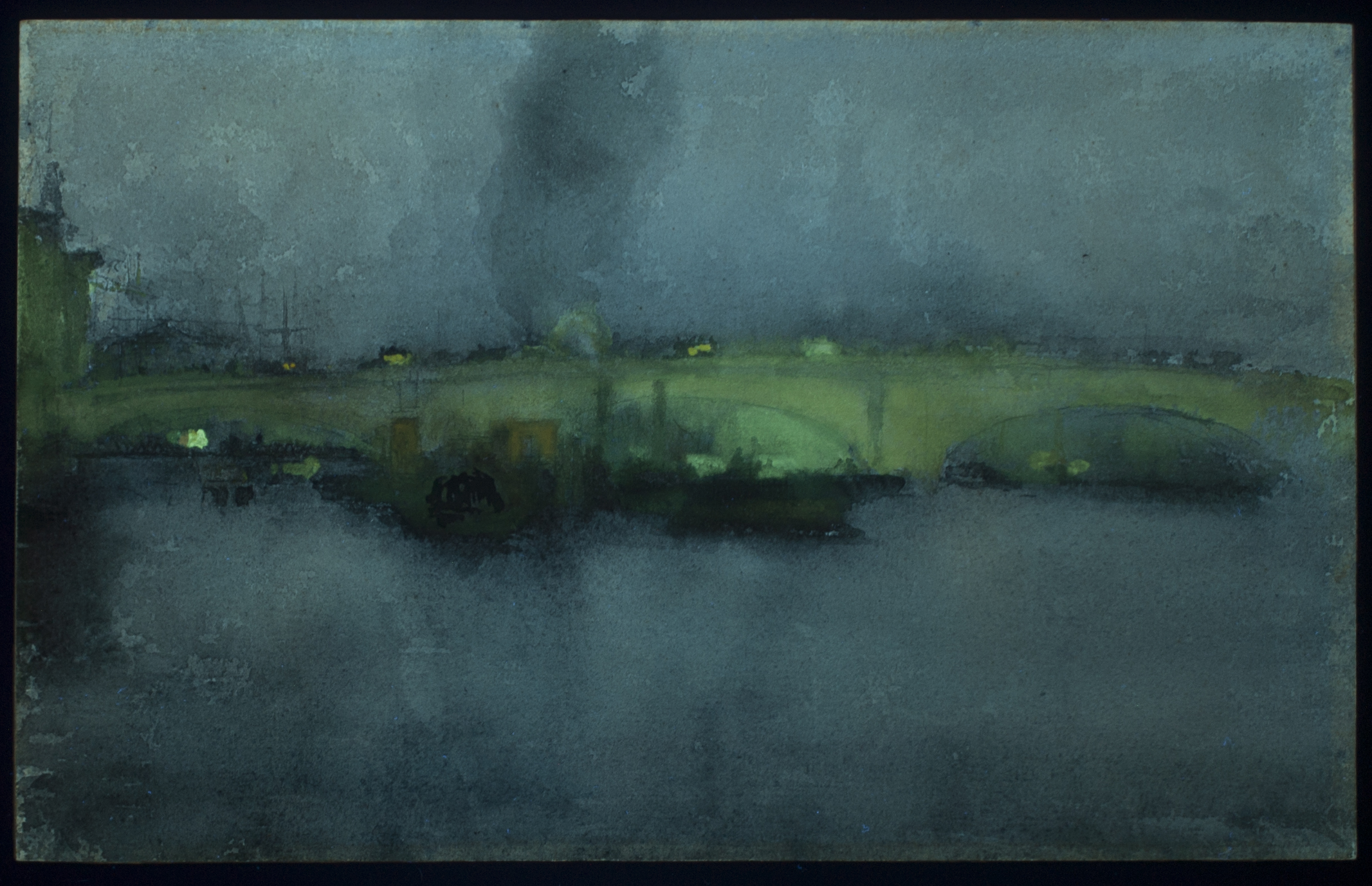 Whistler's bold approach to watercolor manifests not only in his handling of the paint, but also in his choice of pigments. Analysis of the painting under UV light reveals his use of a thinned zinc white around the bridge, especially in the thick fog beneath the central arch where it fluoresces a bright yellow (Fig. 5).
 Zinc white, sometimes called "Chinese white," was not in itself unusual material for nineteenth century watercolorists. John Ruskin had in fact enjoined watercolorists to "Use Chinese white, well ground, to mix with your colours in order to pale them, instead of a quantity of water."5 Used to transform translucent watercolor pigments into thick, opaque gouaches, it was a foundational material for high Victorian watercolorists like John Frederick Lewis, who relied upon it to create tightly controlled, opaque watercolors that approximated the effects of oil paintings (Fig. 6).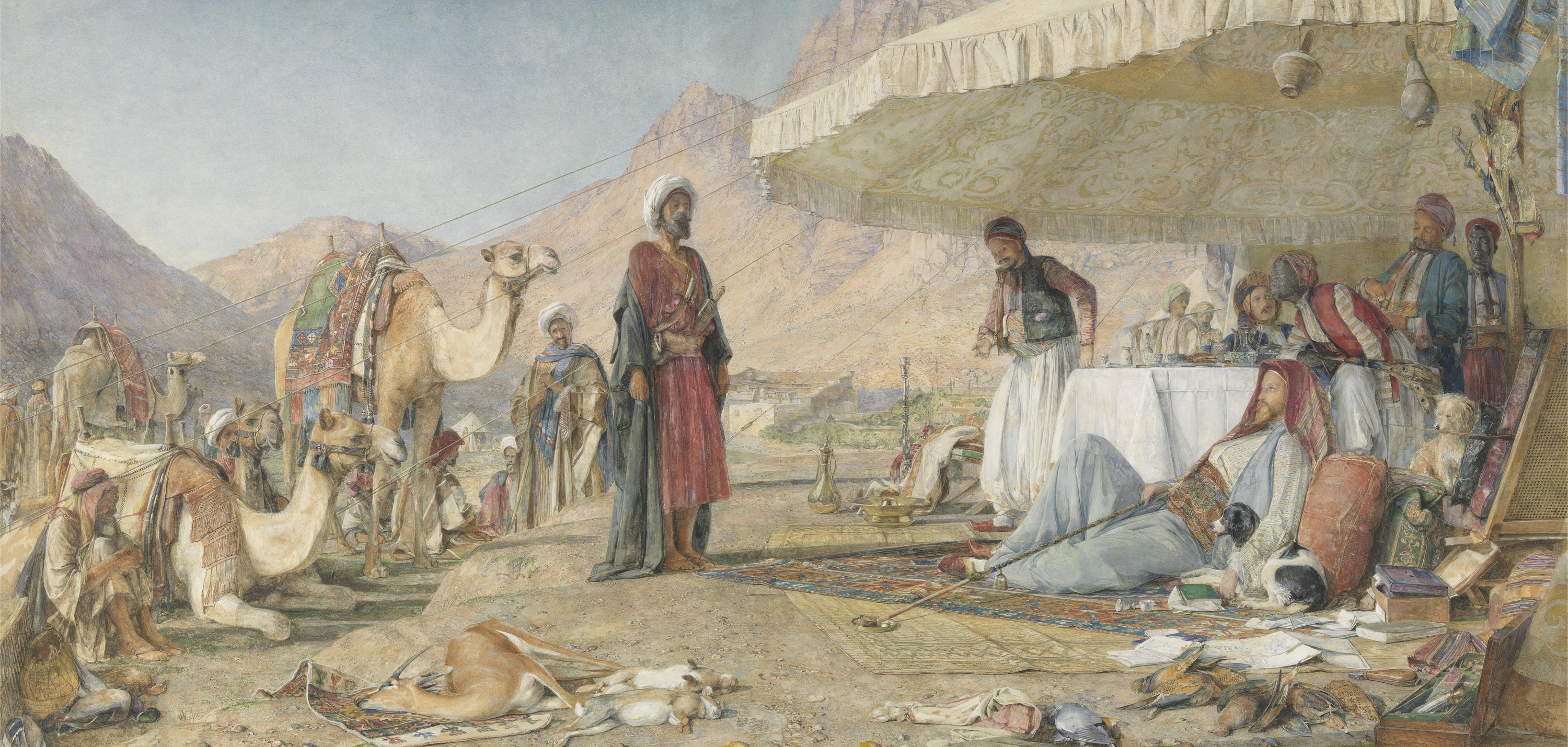 By the 1880s, however, British watercolorists were advocating a return to the looser, more spontaneous watercolor styles of the late eighteenth and early nineteenth centuries.6 This period was the "golden age" of British watercolor painting, when artists had favored translucent colors, generally relying upon the white of the paper to provide luminosity. Whistler's loose, fluid washes recall "golden age" watercolors, but his use of a watered-down zinc white places him at odds with both the traditional injunctions against gouache and the rich opacity of high-Victorian watercolor. Though a transitional work, London Bridge might be seen as Whistler's first conscious effort to defy conventional understandings of watercolor and to set himself up as an iconoclastic innovator who would use the medium in new and modern ways.
Bibliography
1 "Notes on Current Events," The British Architect 20 (September 23, 1881), 471.
2 For more information on the trial, see Linda Merrill, A Pot of Paint: Aesthetics on Trial in Whistler v. Ruskin (Washington, DC: Smithsonian Institution Press, 1993).
3 Lee Glazer, "A New Beginning," in Whistler in Watercolor: Lovely Little Games, by Lee Glazer et al. (Washington, DC: Freer Gallery of Art, Smithsonian, 2019), 16–49; David Park Curry, James McNeill Whistler at the Freer Gallery of Art (Washington, DC: Freer Gallery of Art, Smithsonian, 1984), 179.
4 Martha Smith, "Hunting for Old Paper with James McNeill Whistler," The Book and Paper Group Annual 16 (1997).
5 John Ruskin, The Elements of Drawing, in The Complete Works of John Ruskin, edited by E. T. Cook and Alexander Wedderburn, Library Edition, vol. 15 (London: George Allen, 1904), 137.
6 Christopher Newall, "Innovation and Conservatism in the Later Victorian Period," in Victorian Landscape Watercolors, by Scott Wilcox and Christopher Newall (New York: Hudson Hills Press, 1992), 61.