Pattern Library
The deities depicted in Goryeo Buddhist paintings wear garments richly patterned with motifs painted in gold. These opulent details distinguish them from paintings created in China and Japan. The patterns belong to a limited repertoire, however, and motifs are repeated across dozens of paintings. This suggests the existence of models within workshops that were followed like rules or traditions.
Roundels are commonly used for outer garments and appear in depictions of both Buddhas and bodhisattvas. All-over patterns are more often seen on inner garments. Scroll patterns are limited to sleeves and skirt borders. Some motifs are associated with specific deities, like the tortoise shell pattern with lotus medallions, which are found in illustrations of Water-Moon Avalokiteshvara.
Use this feature to compare similar versions of popular motifs found in different paintings.
This pattern features a variety of plants. Scroll roundels, presenting abstract spirals, were particularly appealing and seem to be unique to Korean Buddhist painting. Other examples feature recognizable flowers like lotus and chrysanthemum.
Scroll Roundels
Lotus Scroll Roundels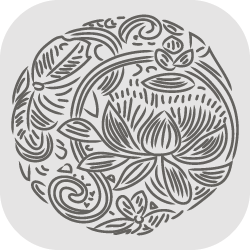 Popular all-over patterns feature chrysanthemums or tortoise shells.

Scrolling patterns composed of flowers or vines are perfect for borders.